Are your pets getting the 'safe' and warm feeling in a cozy enclosed space that they love?
Cats in general are very elusive, and having a secure bed and hideout gives a sense of security for your pet.
Our CozyCave™ Cat Bed is engineered to perfectly match up with what the cat brain wants – it provides a quiet hiding place and privacy which creates a sense of security for your furry friend.
Give your cats the stylish, super soft, skin-friendly, and easily cleanable sleeping bag that meets their behavioral needs, and that will quickly become their favorite pristine place to nap and sleep!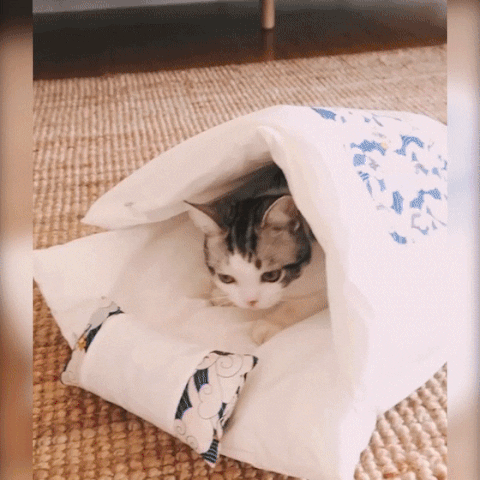 🐱 PETS SLEEP WELL AND REST BETTER.
Cats sleep about 16 hours a day, compared to 8 hours for humans. Our CozyCave™ Cat Bed Sleeping Bag reduces anxiety and soothes your pet with its design that protects them from the cold, and promotes sleep for a long and healthy life!
The coziness of external flannel fabric, inner lamb wool, polyester fiber fabric filling, bring them warmth and security and help your pet get a nice sleep, and which cats find instinctually comforting.
🐱 SUPPORTS JOINT PAIN RELIEF.
The soft padding will give them a comfortable experience. It supports joint and muscle aches and pain relief, especially for the cat friends you have been with for years. Ideal for senior cats who need the support of a thicker mattress, while promoting blood circulation. Cats can rest their chin on the front with minimal neck strain (which is especially useful for arthritic and senior cats).
🐱 Incredibly cozy and comfortable experience for all seasons.
Used as a bed or cave, your cat will feel warm, sheltered and protected in the cold winter months, and will feel the luxurious comfort of the very soft, thick and fluffy mat in warmer seasons. Suitable for most cats, puppies and small animals.
🐱 CATS WILL FIND SOLACE ANYWHERE.
Designed like a pillow, it is lightweight and easy to move so you can put it anywhere you, or your cat wishes to snooze peacefully. Just unzip it and your cat's entire bedroom is all set up! The luxury design and look make this CozyCave™ Cat Bed a great addition to accommodate the design of any home. The special bottom with dot silica gel can prevent slippage and reduce the damage to the floor caused by movement. Perfect for the lazy cats who like to doze at anytime and anywhere.
🐱  DO NOT WORRY ABOUT ODOR OR DIRT.
Do not worry about cleaning, thanks to its hygienic and removable cover, the CozyCave™ Cat Bed Comfy Pillow is easy to wash and is machine-washable (gentle cycle, tumble dry, low heat), and at only 30 ° to eliminate parasites and odors. It holds its shape well in the washing machine.
Give the perfect hiding place where your pets can always retreat to for some peace and quiet, a place that will improve their well-being and satisfy all their sleeping needs!
BUY WITH CONFIDENCE – At PetGishi, we pay great attention to the comfort and well-being of your fur babies and want to assure you that you are in good hands. We offer a 30-day money-back guarantee. That's how confident we are in all of our products. If you have issues with the product, please contact us at [email protected] and we will get back to you within one business day.
Free worldwide shipping. No surprises or hidden fees.
Happy and helpful real humans on our support desk 24/7!
30-day money back guarantee.
Tracked and insured order shipments.
100% safe and secure encrypted checkout.