"Finally, I can let my dog enjoy outside and exercise comfortably in brisk conditions without feeling the chills, and without restricting his movements during work and play.
⭐⭐⭐⭐⭐
– Aaron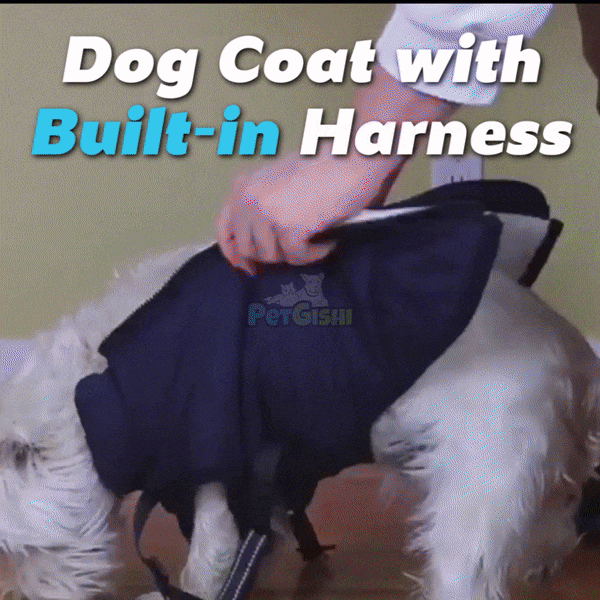 Help your dog enjoy the cold and rainy season more this year!
Blending insulated warmth, durability, comfort and style.
🔒 Secure Transaction
Payments are made through AES-256 bit SSL encryption, which means they are 100% safe with us.
This fashionable and functional dog coat comes with a built-in harness and is easy and hassle-free to put on & off in a matter of seconds. Forget about putting a jacket PLUS complicated harnesses that are a hassle to take on and off and cause choking and pulling.
A Single

Dog Harness-Coat Combo

for most breeds…
… that is sure to turn heads when you walk your dog!
Walking your dog in frigid temperatures can be emotionally distressing because of your concern for your dog. Since most dogs require time outside in order to go to the bathroom and release excess energy, we understand that you would take a rather safe-than-sorry approach.
Our waterproof winter jacket will help to insulate dogs of all sizes' natural body heat to best keep your pet warm and dry in all weather conditions.
Why Dog Parents
Love this

?
"I got this for my dog and it's great. Easy on easy off, plus it covers more of her body for warmth on a cold day. She loves and wears it proudly." – Ruth
This dog clothing provides warmth, comfort, and safety for your pooch in any weather. The dog raincoat is made from a waterproof and breathable fabric that's also comfortable for dogs to wear all day long. The vest design will help keep bad weather out of your dog's fur.
Functional shoulder harness design ensures you no longer hurt your dog's neck or cause them general discomfort as the leash is attached to the body D-ring & NOT their neck; it allows you to control your dog on lead more easily, is very convenient to protect your dogs from getting lost while walking, reaching a good balance between fashion and function.
What's in it
for your pet
A Stylish Dog Coat for Warmth and Comfort so they can stay out longer.
The dog looks better and gets more compliments on their new fancy fur coat. High quality, warm, comfortable, and stylish – what more could you ask for?
🐾KEEP YOUR DOG WARM, DRY & CLEAN🐾
Heating Cotton Fleece ensures your dog is warm, dry & comfortable at all times, especially through the cold & wet winter nights.
🐾PREVENT DISCOMFORT & PREVENT INJURY 🐾
The no-pull feature goes around your dog's body instead of their neck to prevent general discomfort, strangulation and keep them comfortable & happy.
The coat has a premium reinforced zip, which keeps your dog locked in safe & secure, so you can easily control them.
🐾REDUCE RESTRAINT & ANXIETY 🐾
The easy-on, no-pull coat gives a calming effect through gentle body pressure, prevents the feeling of restraint and anxiety (which most neck collars cause).
🐾IMPROVE YOUR DOG WALKS 🐾
The coat has been designed for ultimate temperature-control without any restriction of movement.
A hassle-free experience, quickly & conveniently get your dogs coat on & off in a matter of seconds, for your dog's and your convenience.
Your Dog Also Deserves To
Feel Warm And Cozy!
Some dogs dislike going out for walks when it is cold or wet, preferring to stay indoors in the warm instead. Our dog jacket with a harness is great for walking your dog on a rainy day or for keeping him warm in those frigid days of winter. The waterproof material keeps out the rain and snow, while the fleece lining makes it as warm as a blanket!
Our dog jacket with a harness is excellent for use when taking walks in the cool autumn or spring weather.
Your pet will feel more secure and be more comfortable when you are out and about because they don't have to worry about pulling on a traditional harness under their coat.
More Than 1800+

5-Star Reviews
Not only will this winter coat put an end to dog shivering with rain and cold, more walks, long trips, especially during the cold and wet seasons, are more pleasant for thousands of dogs and their owners.
"Very satisfied with the material. On top-dense (matte color, like our winter jackets), on the inside-a very warm cotton."
"Very high quality, warm, waterproof with reflective elements. Perfect."
"Such a beautiful vest and really warm, everything is exactly like described and it looks so amazing"
Frequently
Asked

Questions
I have a medium-sized dog, so I order a size in the middle right?
You should take measurements first and use the size chart to ensure correct fit. Chest measurement on the widest part is the most important.
At what temperature does a dog need to wear a coat?
There is no set temperature at which a dog must wear a jacket, as each individual will vary (much like people). Go with your instincts and if you think it's cold outside, then your dog might be feeling the chill too.
I piece Dog Jacket with Built-in Harness (no leash).
Does it cover the entire belly?
 Our jacket with a harness is designed to be unrestrictive so that it can't get in the way when your pet tries to do normal things like walking, going to the toilet, or grooming themselves. Full belly cover might also make your pet itchy when they're resting.
Can I return or swap it if It doesn't fit?
Yes, just go to our  Returns Centre with your Order Number to arrange a Return, Refund or Exchange. To reduce the chance of this, however, we do ask you to measure your pet before ordering and not assume your dog is a particular size. Terms & Conditions Apply.
Our Guarantee To You: We have worked tirelessly to bring you a range that is all natural and organic. We're pretty sure you're going to fall in love with our beautiful products. But in case you're not completely satisfied with our product, you can ask for a 100% refund on your purchase. This puts the pressure on us to ensure that we deliver the best possible products and results to you. We want your experience with PetGishi to be the best. So go ahead and shop with confidence!
This product ships from our USA warehouse via USPS, UPS or FEDEX.
Shipping time is approximately 4-13 business days.
Ready to keep your dog warm and dry in all weather conditions?
PetGishi is on a mission to help pet owners maintain beautiful and healthy pets they desire. We decided to ditch unnecessary accessories after being tired of using them on our own pets. We're committed to help you have happy and cared for pets in all sizes, and turn heads while you are on adventures together.

🔒 Secure Transaction
Payments are made through AES-256 bit SSL encryption, which means they are 100% safe with us.
No coupon is needed. Automatic discount applied on checkout.
Frequently
Bought

Together