Do you have a pet that sheds its fine fur like it's nobody's business?
You'll need an amazing pet hair remover that is effective, easy and quick at picking up stubborn cat or dog hair that gets caught on your furniture, carpet and clothes, no matter where you are. If your family uses a lot of sticky rollers to remove pet hair and lint, our newest Ultra Purrtable™ Lint Roller Hair Remover will eliminate the need for the old sticky solution.
Not the average lint roller.
Our reusable Ultra Purrtable™ Lint Roller Hair Remover offers a more environmentally friendly way of removing lint, hair, and dander, than the sticky tapes or the average rollers, and it doesn't leave sticky residue on your clothes or couches. Our self-cleaning Pet Hair Remover is a fuss-free and long-lasting tool that you can use repeatedly, up to 500,000 times without being replaced or washed!
Effectively Removes Pet Hair in Seconds.
Our Ultra Purrtable™ Lint Roller Hair Remover uses fine wire bristles that work better in removing stubborn pieces of lint and hair than smooth nylon or adhesive materials, so it allows for deep cleaning of hard surfaces like pillows or lampshades that you can't brush firmly with regular rollers. Removes even the hair that literally sticks to clothes like a fish hook.
Economical Lifetime Use.
Since pets can shed heavily, our reusable roller will save you on endless refills or adhesive sheets over the long run, and you can use them again and again until all of the area and surfaces you need is picked up and pet hair free. It will last you longer than the disposable lint removers.
Eco-friendly Effortless Cleaning.
You won't need any sticky tape or power source to get the deep embedded fur out. Our roller is 100 percent recyclable, and not disposable, so you won't be creating more waste every time you clean, nor would you need to replenish it. Safe for humans and animals.
Sticky Static Technology
Our lint roller uses electro-static technology to gently lift stubborn hair and lint, direct from the source, without relying on sticky tapes which lose their effectiveness over time and need to be replaced often.
Purrtable™ – Just Twist and Go!
Our pet hair remover lint roller fits in your purse, desk at work, backpacks, and even some pockets with relative ease, making it excellent for professionals who find themselves frequently on-the-go for meetings, interviews, and conferences, when they want to look presentable, and not covered in dust, lint, or hair. Our happy customers stash our colorful, compact reputation-saver easily in gym bags, car glove compartments, and briefcases.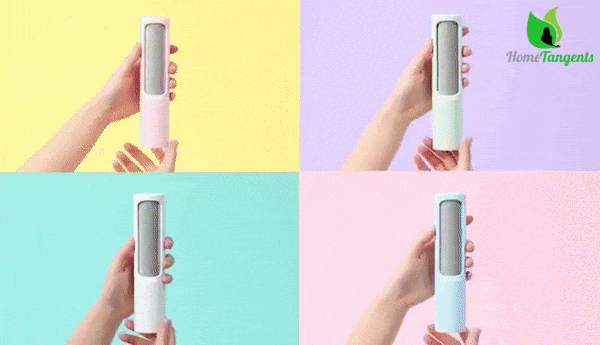 HOW TO USE IN 3 STEPS
❶ By stroking the brush back and forth, an electrostatic charge is generated, which causes a particularly strong adhesion of lint and hair. Brush until the surface does not pick any more lint!
❷ As soon as the nylon bristles cannot take up any more lint, a rotating handle is activated, which transports the collected lint into a container. Rotate the handle until the nylon bristles are free of fluff.
❸ Press the button on the upper side and empty the Ultra Purrtable™ Lint Roller Hair Remover in seconds and dump the contents into the trash bin without touching the bacteria ridden debris.
Whether your pet has short or long hair or something in between, our lint roller will pick it up off your clothes and furniture to keep things looking neat and tidy. Don't walk linty, keep your clothes presentable and get rid of allergy triggers NOW.
Not Sold in Stores.
Limited Quantities available.
This product ships from USA.
BUY WITH CONFIDENCE – Since your satisfaction is our top priority, your purchase is backed by our 30-day guarantee. That's how confident we are in all of our products. If you have issues with the product, please contact us at [email protected] and we will get back to you within one business day.
Free worldwide shipping. No surprises or hidden fees.
Happy and helpful real humans on our support desk 24/7!
30-day money back guarantee.
Tracked and insured order shipments.
100% safe and secure encrypted checkout.